Posts for tag: teething
By Neu Family Dental
February 14, 2017
Teething is an important phase in your baby's dental maturity. During the approximate two-year process, they will acquire their first set of teeth.
It can also be an unpleasant two years as each tooth sequentially breaks through the gums. The severity of teething problems differs with each child, but there are common signs: irritability, biting and gnawing, chin rash, drooling or ear rubbing among them. Although for most babies the discomfort isn't that great, the pain can occasionally be a lot for them — and their care-givers — to handle.
Although having a very unhappy infant can be nerve-jangling, there's no real cause for concern health-wise. If, however, they begin to run a fever or experience diarrhea, that could be a sign of something more serious. In those cases, you should see a doctor as soon as possible.
Otherwise, there are some things you can do to make them more comfortable during teething episodes. One thing to remember: cold items for biting or gnawing usually work wonders. So, be sure you have chilled teething rings or pacifiers (but not frozen — the extreme temperature could burn their gums). For older children, an occasional cold food like a popsicle can bring relief.
You can also try massaging the gums with your clean finger, which will help counteract the pressure of an erupting tooth. But avoid rubbing alcohol or aspirin on the gums, and you shouldn't apply numbing agents to children less than two years of age unless advised by your doctor.
If their pain persists, it's permissible to give them a mild pain reliever like the appropriate dosage for their age of baby acetaminophen or ibuprofen. Again, you should give this by mouth and avoid rubbing it on the gums.
By the time they're three, all their primary teeth should be in and teething symptoms should have largely dissipated. In the meantime, make them as comfortable as you can â?? in no time the unpleasantness of teething will pass.
If you would like more information on coping with your child's teething, please contact us or schedule an appointment for a consultation. You can also learn more about this topic by reading the Dear Doctor magazine article "Teething Troubles: How to Help Keep your Baby Comfortable."
By Neu Family Dental
December 29, 2014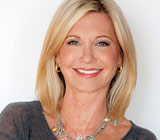 Singer Olivia Newton-John's daughter Chloe is now a lovely, grown woman, but Olivia recently recounted to Dear Doctor magazine a rather creative method she found to sooth Chloe's teething troubles many years ago.
"When Chloe was a baby and teething I remember using a frozen bagel for her sore gums," Olivia said. "She loved it!"
Cold is often very soothing to a teething child's gums. In fact, the American Academy of Pediatric Dentistry (AAPD) recommends using a clean, chilled, rubber teething ring, or cold wet washcloth. Chilled pacifiers can also be helpful. Be sure not to freeze teething rings or pacifiers as ice can actually burn sensitive mouth tissues.
Older teethers can sometimes find relieve from cold foods such as popsicles (or bagels!) but make sure your child eats these sugar-containing foods only at mealtimes so as not to promote tooth decay.
If your baby has not yet begun the teething (or tooth-eruption) process, you can expect it to begin usually between six and nine months. It may, however, start as early as three months or as late as twelve months.
Teething symptoms vary among children, as does the length of time it takes for a tooth to make its appearance. But many parents notice the following signs:
Irritability
Biting and gnawing
Gum swelling
Chin (facial) rash
Disrupted sleeping patterns
Ear rubbing
Drooling
Decreased appetite
These symptoms are usually most bothersome during the week that the tooth is breaking (erupting) through the gums, starting about four days before and lasting about three days after the tooth appears.
Occasionally, teething discomfort can be considerable. If that is the case with your baby, you can give her or him acetaminophen or ibuprofen in the appropriate dose (check with your pharmacist if you're not sure what that is). The medicine should be swallowed — not massaged into the gums, as this can also burn. Numbing agents should not be used for children under 2, except under the advice and supervision of a healthcare professional.
If you would like to learn more about teething or any other child-related oral health issue, please contact us or schedule an appointment for a consultation. If you would like to read Dear Doctor's entire interview with Olivia Newton-John, please see "Olivia Newton-John." Dear Doctor also has more on "Teething Troubles."
By Neu Family Dental
November 01, 2013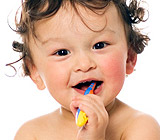 Even though they eventually fall out, primary (baby) teeth play several vital roles in your child's development. Among other things, they serve as important guides for the developing permanent teeth that will replace them. If any are lost prematurely, the remaining baby teeth start to shift, migrating forward, decreasing the space necessary for the permanent teeth to erupt into their proper positions. This could result in a need for future orthodontics that may have been unnecessary. So it's important to keep primary teeth healthy and in place until they are ready to come out naturally.
Signs & Symptoms of Teething
Primary (baby) teeth typically begin emerging between six and nine months, though as early as three or as late as 12 months can occur. Usually, but not necessarily, the two lower front teeth appear first. All 20 primary teeth are generally in by the age of three.
Some typical signs of teething include: irritability, gum swelling, gnawing, drooling (due to increased saliva production), chin (facial) rash (due to excessive drooling), disrupted sleeping patterns, ear rubbing, and decreased appetite. Symptoms generally start about four days before a tooth emerges, are most intense during the week when the tooth breaks through the gum, and subside about three days following the event.
You may notice small, bluish, translucent "eruption cysts" on your baby's gum where a tooth is breaking through; sometimes blood mixes with the fluid in a cyst, at which point it's called an eruption hematoma. Both generally disappear on their own when the tooth erupts and pops them.
Suggestions for Soothing
To help keep your teething baby as comfortable as possible, try the following:
A chilled rubber teething ring, pacifier, or cold wet washcloth
Gentle gum massage using a clean finger
Cold foods like popsicles when your child is old enough (just be careful about feeding him or her too much sugar, which can cause decay even in newly emerging/emerged teeth)
Over-the-counter pain medication such as ibuprofen or acetaminophen in the appropriate dosage
The onset of teething is the perfect time to begin focusing on your child's pediatric dental care. Even though baby teeth eventually fall out, the quality of their care will have a direct and long-lasting impact on the health of the permanent teeth that follow.
If you would like more information about baby teething, please contact us or schedule an appointment for a consultation. You can also learn more about this topic by reading the Dear Doctor magazine article "Teething Troubles."