Posts for: March, 2015
By Neu Family Dental
March 16, 2015
The various structures in your mouth — your teeth and gums, of course, as well as periodontal tissues that hold teeth in place within the jaw — all function together to create your smile. This includes muscles like the frenum, a fold of muscle tissue that connects the gums to the upper lip, which helps pull the lip upward when you smile.
Unfortunately, an overly large frenum could contribute to an unattractive space between your two upper front teeth. The problem occurs when the frenum grows beyond its normal range and runs between the front teeth to connect with the gums behind them at the forefront of the roof of your mouth. The resulting space that may develop can be closed with orthodontics, but unless the excess frenum tissue is addressed the space may eventually reopen.
The frenum is just one cause among many for a noticeably wide space, including bite problems (malocclusions), finger-sucking habits or missing teeth. We would, therefore, need to examine your mouth to determine the exact cause before beginning any treatment. If indeed the frenum is the source of the problem, it will be necessary to ultimately remove the excess portion through a procedure known as a frenectomy.
A frenectomy is a minor surgical procedure performed by a periodontist, oral surgeon or a general dentist with surgical training. After numbing the area with local anesthesia, the tissue behind the teeth is dissected or reduced in size with a small scalpel or a surgical laser. The wound is then closed with a few stitches; any post-surgical discomfort is usually minimal and managed with non-steroidal anti-inflammatory pain medication. The wound will completely heal within a few weeks.
Most frenectomies are performed after orthodontics to close the space. Removing it prior to tooth movement may result in scar tissue that prevents the space from closing. It's also easier for the surgeon to gauge how much tissue to remove after space closure to avoid removing too much, which can leave a "black" triangular hole where gum tissue should normally be.
Treating an abnormally large frenum isn't difficult, but it needs to be coordinated with orthodontic treatment for the best outcome. The end result is a smile that's both healthy and attractive.
If you would like more information on teeth spacing problems, please contact us or schedule an appointment for a consultation. You can also learn more about this topic by reading the Dear Doctor magazine article "Space between Front Teeth."
By Neu Family Dental
March 06, 2015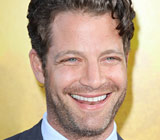 As one of America's most beloved go-to guys for inspiration on the latest interior design trends, Nate Berkus has written a highly successful book, Home Rules: Transform the Place You Live Into a Place You'll Love; he is a contributing editor to O Magazine; and he is currently hosting his own television program, The Nate Berkus Show. He is also recognized for his eye-catching smile.
During a recent interview with Dear Doctor magazine, Berkus opened up about the facts behind his trademark smile. While his smile is all-natural — he never wore braces or had any cosmetic work done — he gives credit to his childhood dentist for the preventative healthcare he received as a young boy. "I'm grateful for having been given fluoride treatments and sealants as a child," he said. Nate also shared the important flossing advice he learned from his dentist that he still follows today: "Floss the ones you want to keep."
Why is flossing so important?
Flossing is crucial because it remains the most effective method for removing plaque from between teeth, where the toothbrush can't reach. It is also an important part of keeping your gums healthy so that you can avoid periodontitis (gum disease). You should floss at least once a day either before or after you brush your teeth. If you see blood after flossing, it may indicate that you have periodontitis, or it may mean that you are flossing too harshly. Remember, you need to use a delicate hand and a proper technique when brushing and flossing to avoid damaging your teeth and gums.
To learn more about flossing, including step-by-step instructions with photos, you can continue reading the Dear Doctor magazine article "Flossing — A Different Approach." Or you can contact us today to schedule an appointment so that we can conduct a thorough examination, review your brushing and flossing techniques, and discuss any questions you have as well as treatment options. As needed, we will work with you to teach you the proper brushing and flossing techniques so that you feel confident before you leave our office. And to read the entire interview with Nate Berkus, please see the Dear Doctor magazine article "Nate Berkus."