Posts for: March, 2014
By Neu Family Dental
March 18, 2014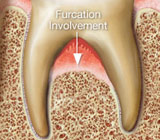 Although they may appear inert, teeth are anything but — they grow and change like other bodily tissues until complete maturation. Teeth roots are especially adaptable; teeth with multiple roots develop much like forks in a road as each root takes a different path toward the jawbone.
This fork where they separate is called a furcation. It's normal for lower molars and premolars to have two furcations, while upper molars traditionally have three. Furcations pose difficulties for teeth cleaning and maintenance. If bone loss has occurred around them, a condition called a furcation invasion has occurred. This loss is most likely due to periodontal (gum) disease, an inflammation arising from bacterial plaque on the teeth that hasn't been removed through proper oral hygiene.
We identify furcation invasions through x-ray imaging and tactile probing. They're classified in three stages of development: Class I describes early onset in which marginal bone loss has occurred, exposing a groove that leads to the beginning of the furcation; Class II is moderate bone loss where a space of two or more millimeters has developed horizontally into the furcation; and, Class III, advanced bone loss whereby the bone loss has extended from one side of the tooth to the other, or "through and through furcation."
Our first step in treatment is to remove any detectable plaque and calculus on the tooth surface, including the roots (known as scaling and root planing). These areas can be difficult to access, especially near furcations, and requires special instruments known as scalers or curettes. We may also employ ultrasonic scalers that use high-frequency vibrations coupled with water to break up and flush out the plaque and calculus.
We then apply antimicrobial or antibiotic medicines to further disinfect the area and inhibit bacterial growth while the affected tissues heal. As the infection and inflammation subsides, we then turn our attention during subsequent visits to address the bone loss around the furcation. This may involve surgical procedures to aid in re-growing gum tissue and bone and to create better access for cleaning and maintaining the area.
Finally, it's important to establish good oral hygiene habits and regular checkups and cleanings to prevent further complications or a reoccurrence of the disease. Maintaining these habits will help you avoid tooth loss and other problems with your oral health.
If you would like more information on furcations, please contact us or schedule an appointment for a consultation. You can also learn more about this topic by reading the Dear Doctor magazine article "What are Furcations?"
By Neu Family Dental
March 03, 2014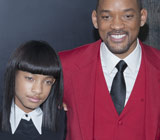 Her parents Will and Jada are Hollywood royalty, who helped her land her first acting role when she was 7. She released a hit single, "Whip My Hair," before she had quite reached the age of 10; shortly afterward, she was signed to a record label. Yet the young singer and actress Willow Smith has at least one thing in common with plenty of 'tweens and teens across America: She needed to wear braces to correct problems with the alignment of her teeth.
Why do braces seem to be a part of growing up for so many kids? One answer is because they work so well. Braces apply gentle pressure to the teeth through a thin, flexible wire called an archwire. Attached to the teeth with a metal or ceramic bracket, the archwire exerts a light force which causes teeth to gradually move into better positions. Sometimes, when additional force is needed, elastic bands or other appliances may be used in conjunction with braces.
Most everyone is familiar with the silvery metal "tracks" of traditional braces. But did you know that there are a number of other options too? For a more inconspicuous look, you may be able to have braces with tooth-colored ceramic brackets; then, only the thin archwire will be visible in your mouth. It's even possible in some cases to place the metal wires and brackets on the tongue side of the teeth. With this system, called lingual braces, the orthodontic hardware is truly invisible.
What if you didn't need metal braces at all? Some people can get good results using a system of clear plastic aligners instead of braces. The aligners are worn 23 hours a day, but can be taken off for cleaning and for important events. They work best for correcting mild or moderate alignment problems.
Still, plenty of people feel that if they're going to wear braces, they might as well flaunt them. That's why some types of braces are available with bands that come in different colors. When Willow's brother Jayden wore braces, he was reported to favor red and black ones. Jayden, who is about two years older than his sister, had his braces removed just before Willow got hers put on.
So if it turns out that you need braces, remember that lots of your favorite celebrities wore them too. And keep in mind that, depending on your own situation, you may have several options to choose from.
If you would like more information about braces or orthodontic treatment, please contact us or schedule an appointment for a consultation. You can learn more by reading the Dear Doctor magazine articles "The Magic of Orthodontics" and "Orthodontics for the Older Adult."